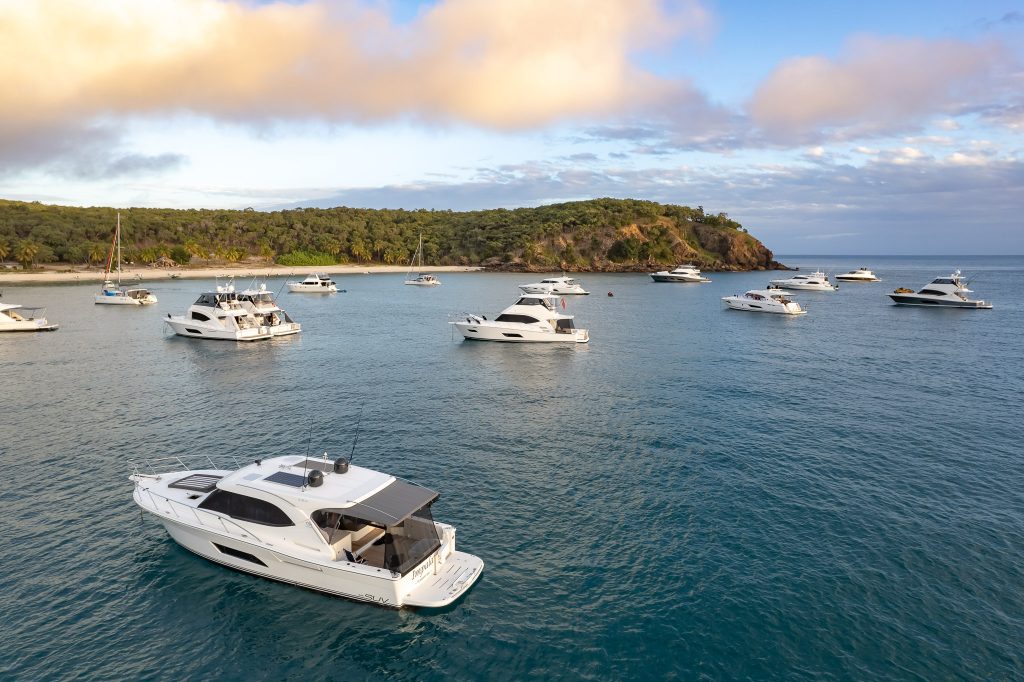 RMC Whitsunday 2nd Departure 2022
Monday 22nd August 2022 – Open
This is our second departure to the Whitsundays delivering & assisting you to reach the Whitsundays with other like-minded Riviera travellers and having some fun experiences along the journey.
As always our experiences are weather pending. Please register your interest at this time.
Basic Itinerary:
———————
30th June
Catch up drinks at Southport Yacht Club from 5 pm – 7 pm. Those that want to do dinner can book themselves for after at the Yacht Club.
—
1st July
6.45 am Meet at Sovereign Island Great Point – Coomera River Entrance
7 am Cruise up Broadwater.
Stopping for lunch at either Moreton or Rainbow Beach weather dependant
4 pm Arrive & Cross Wide Bay Bar to Inskip Point Anchorage for night
—
2nd July
8 am Depart Slow Cruise through Sandy Straights.
Bundaberg Arrival for fuel & berth the night
—
3rd July
8 am Depart to Lady Musgrave (Weather Pending) if average Pancake Creek
—
4th July
Free Day Musgrave (Charity Auction) Item to the value of $50.00 per couple.
—
5th July
7 am Departure – Rosslyn Bay Fuel & then either berth the night or ideally head back out to Keppel's.
—
6th July
Pm Departure to Percy Island or Dukes Depending on Weather
—
7th July
PM Departure to lower Whitsundays – Brampton, Thomas, Lindeman etc.
—
8th July
Arrive at the Whitsundays, where the boats can start to enjoy the Whitsundays.
—
If you have any questions, please get in touch with me directly on my mobile. 
Ben Crawley
Check out all our fun-filled Riviera member experience videos showing our boating getaways designed to bring those with a love of boating together.
All of our adventures together aim to encourage Riviera owners to explore new waterways, meet new friends and gain further confidence in their boats. 
We host experiences that consider all sized vessels. These include boating educational events, beach BBQ's, weekend escapes and coastal cruising adventures. Each year we highlight the spectacular Lady Musgrave Island Experience & our magnificent Whitsunday's Migration, a favourite among our members.
Within our boating adventures, we always encourage owners to make use of their own tenders and equipment onboard. The trips are about socialising, learning and appreciating these wonderful vessels together in beautiful places. The simple engagement of meeting on the beach for sundowner drinks and a chat is an example of what makes our excursions special. 
Our extended journeys are provided at a cost to those wishing to join. This cost assists in being able to organise, plan and provide reliable staff to guide and advise. Benefits such as having a qualified engineer in the fleet and a back to shore contact is valuable in itself. RMC provides a donation to VMR for assisting our Riviera fleet to cross the Wide Bay Bar.
---
Weather pending, we always hope to be able to achieve as many other recreational group activities such as Beach BBQ's where everyone brings their own favourite food to throw on the provided barbie. We like to get together for restaurant reservations and other planned tourist activities when suitable.