Saturday
Saw us leaving the Gold Coast under a double rainbow which was all we needed to know we were in for a fantastic experience. Dropping anchor on the 1st night in the Canaipa Passage we were gifted with calm waters and a marvellous sunset.
Sunday
We make our way to Fraser Island. Dropping anchor for a spot of lunch at Rainbow Beach whilst waiting for the right conditions to cross the Infamous Wide Bay Bar, (which lived up to its reputation). Tin Can Bay VMR expertly guided us through one hell of a crossing and we could not be prouder of our fleet for taking it on with ease, if not a little bit of excitement. Onto Kingfisher Resort. Under clear skies we drop anchor and rafted up with a few of our travelling companions. We then enjoyed some drinks on the beach while taking in the stunning sunset.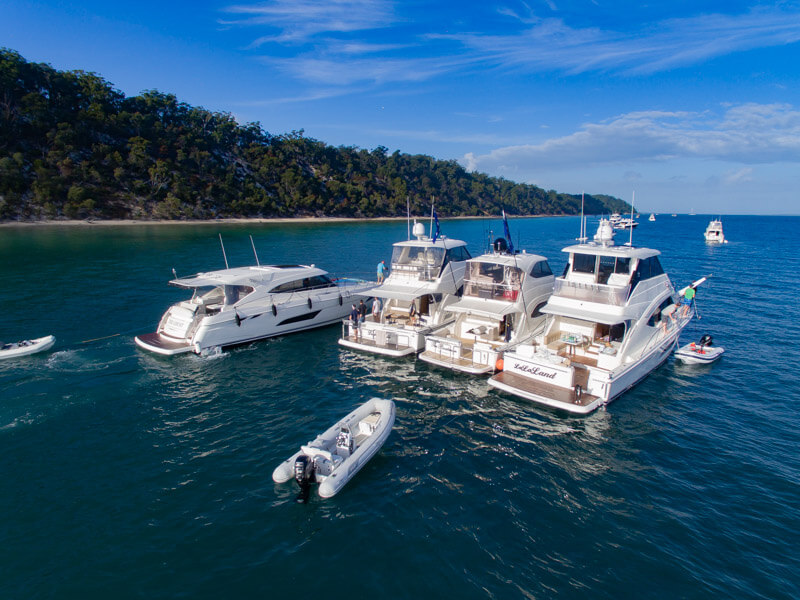 Monday
The next morning, we awoke to clear skies and Riviera's as far as the eye could see. The perfect start to a great day. The ladies were taken very good care of by Island Day Spa at Kingfisher Resort. Being treated to Relaxing Day Spa treatments, enjoying sparkling Champagne and Antipasto platters on arrival. We topped the day off by getting together for our RMC welcome dinner at Seabelle Restaurant – Set up on the beautiful verandas of the resorts "Dingo Deck" where a very tasty, specially selected 3 course dinner and drinks were enjoyed by all.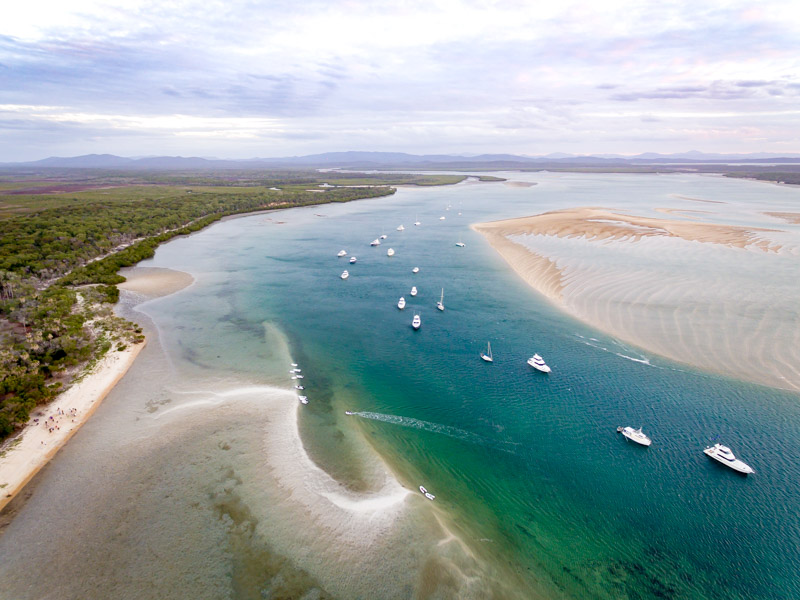 Tuesday
We are off and making our way to Pancake Creek, well-known for its beautiful anchorage as well as its fantastic crabbing. Sunset drinks on the beach where our travelling pooches ran and stretched their legs, kids played hide and seek in the sand & plans were made for an early morning walk up to Bustard head Light House to catch the sunrise.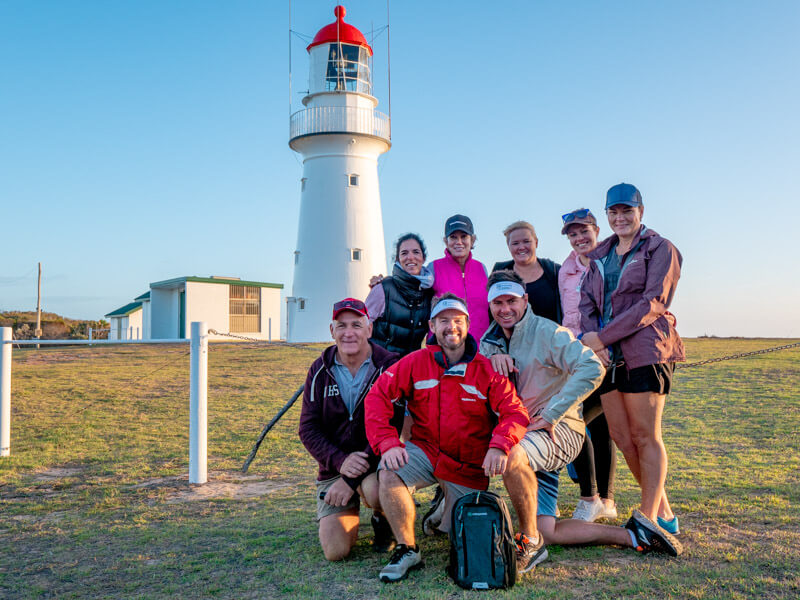 Wednesday
A small group of adventurers & still in darkness we head off in the tenders to find the walking track that would lead us up to the lighthouse. Finding it by torchlight we were on our way as the mornings first light led us to a beautiful sunrise. As the lazy day went on the crab pots were set and little get togethers were taking place on the back of the boats. That evening we enjoyed drinks and laughter and plenty of nibbles on the back of La La Land before setting off to check our pots in the hope of a bountiful haul. Success, the Mud Crabs were plentiful, and spirits were high.
Thursday
Gladstone here we come – Dinner, Drinks & Dancing. The Grand Hotel accommodated us with the table that kept on growing and serving us some great food. We followed this with some live music and bad dancing.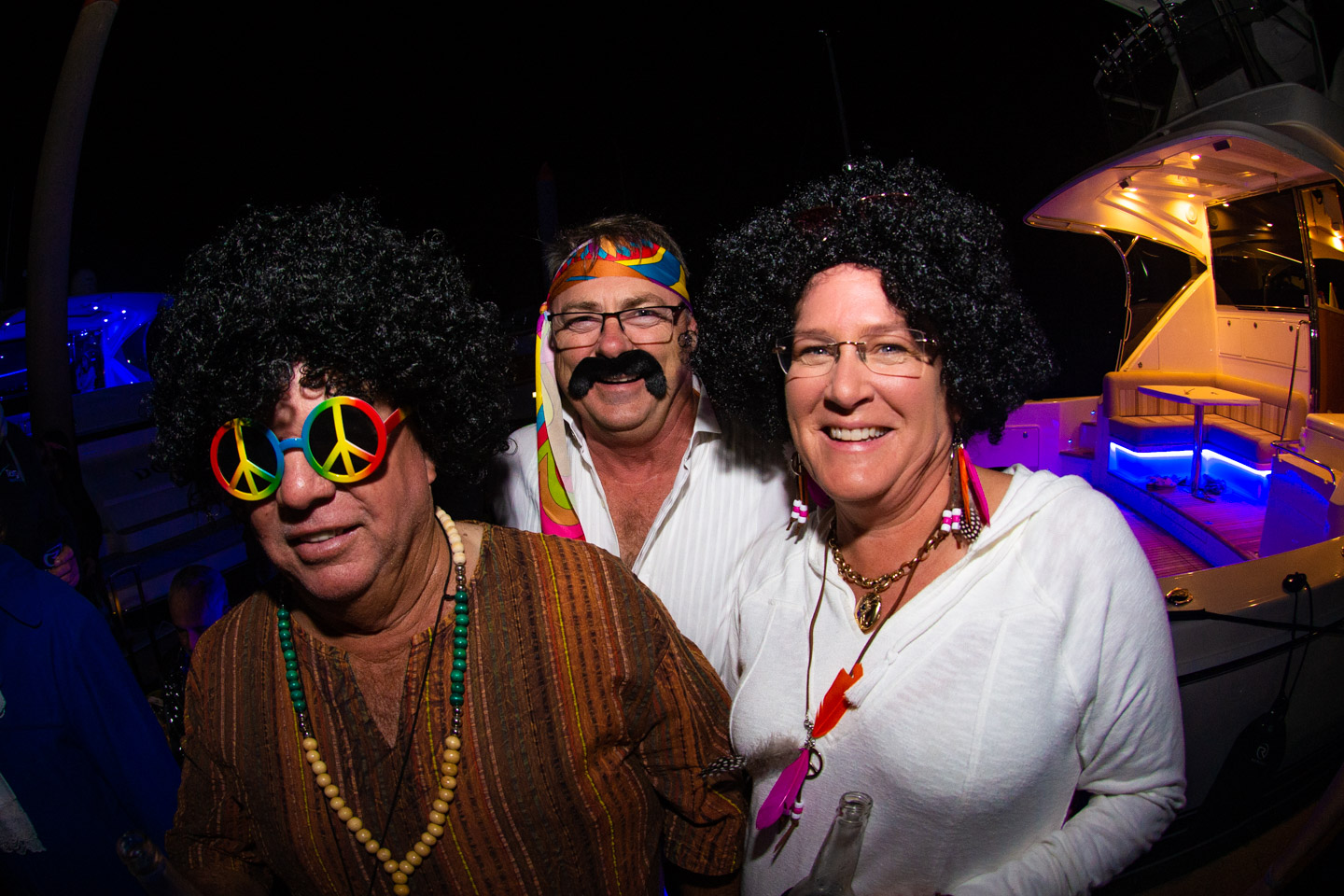 Friday
Time for a flash back and to let the good times roll with our 70's themed dock party. With everyone getting into the swing of things a really great night was had between the 6000SY & The 57EB – We even had a visit from Austin Powers himself AKA Ben Crawley.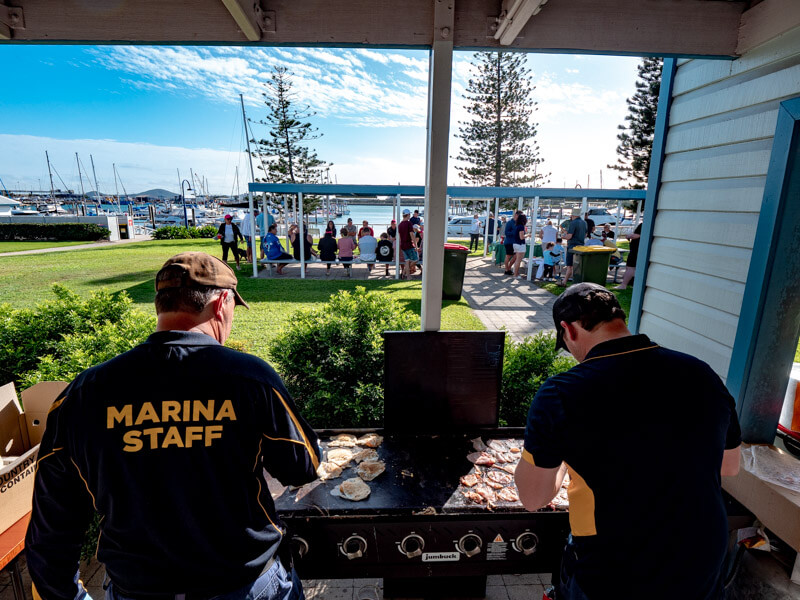 Saturday
A gorgeous morning and a big BBQ breakfast put on by Gladstone marina was the perfect start to the day before we head off. Next stop, Keppel Bay Marina which was unplanned but as usual a pleasure. Fitting our Riviera's into the marina at short notice, they went to great effort and set us up under marquees on the lawn overlooking the marina, so we could all enjoy a fantastic dinner that night. Follow that up the next morning with a walk up to the Rosslyn Bay Lookout and a Ladies Lunch at Beaches Restaurant it was a stop we all enjoyed.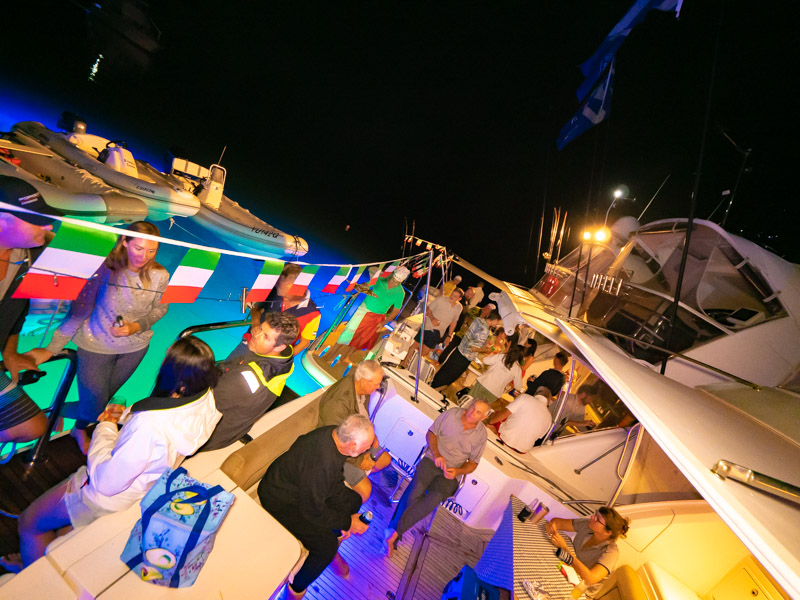 Monday
As we make our way north, the beautiful weather we have been chasing finds us as we head into Island Head Creek, perfect conditions for our Italian Night Raft up. Let me set the scene. Italian flag bunting flapping in the breeze, Italian music playing into the night & an abundance of Italian dishes covering the tables across the 6 rafted up Riviera's. Top this off with the delightful (I'm sure) sound of us all singing "That's Amore" at the top of our lungs so that it carried out across the water. Lets just say, a "Splendido" night was definitely had by all.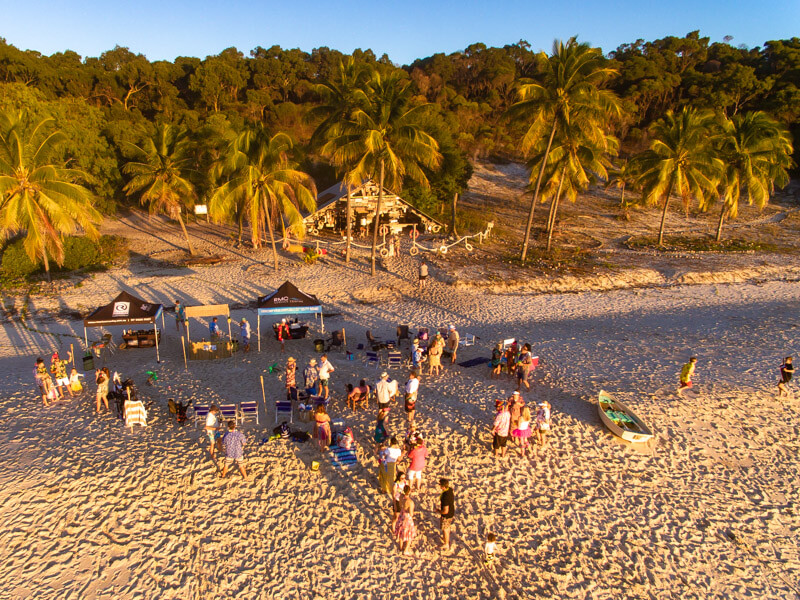 Tuesday
Middle Percy Island with its famous "A Frame" makes the perfect back drop to our Jimmy Buffet – Margarita Beach Party. Complete with the RMC Tiki bar sponsored by Rib Force, the RMC Bar Crew kept the Margaritas flowing. With everyone donning colourful clothes and floral lei's and even a couple of parrot hats, the mood was set for fun & mischief. BBQ's by Southern Stainless were set under our new R Marine Crawley & RMC Service marquess supplied so that everyone could enjoy their dinner around the blazing beach fire. All of this was enjoyed in the company of Island locals John, Steve & Island character Shipwreck.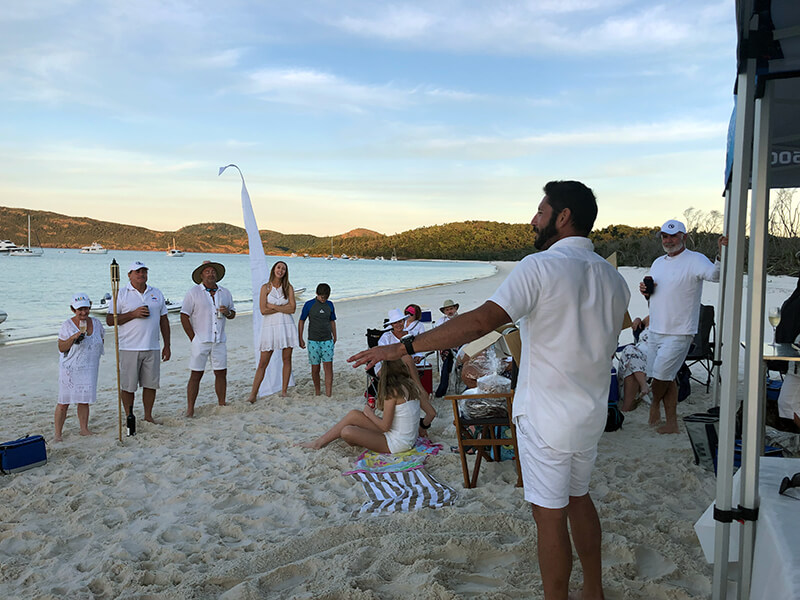 Thursday
Our final night we spend at Whitehaven Beach, with our White Night On The Sands Party. Dressing in white (Because that is what you do at Whitehaven) we enjoyed the balmy weather, and a Champagne Beach BBQ. What better location that this to host our charity auction which is in support of Youth on the Street – A Gold Coast Charity helping youths from all walks of life and with everything life throws at them to get & stay on track towards a better life, this was the best auction we have had to date. With raising a spectacular amount, we will be able to give the charity the much-needed funds it requires to continue to do the amazing job they do.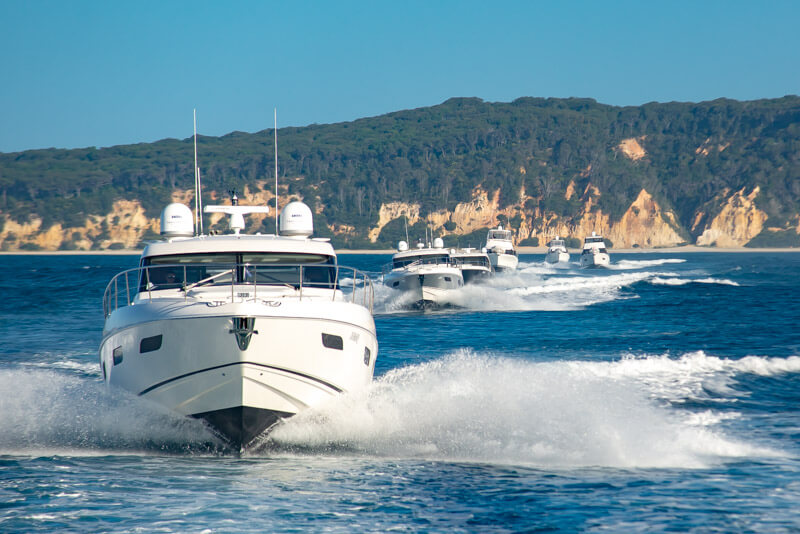 Friday
We are homeward bound after another fantastic RMC adventure. No matter what was thrown at us, be it not so great weather or mechanical issues, we can say we thoroughly enjoyed spending time with and experiencing this migration with our RMC Fleet.
RMC
GOLD COAST PROJECT FOR HOMELESS YOUTH INC.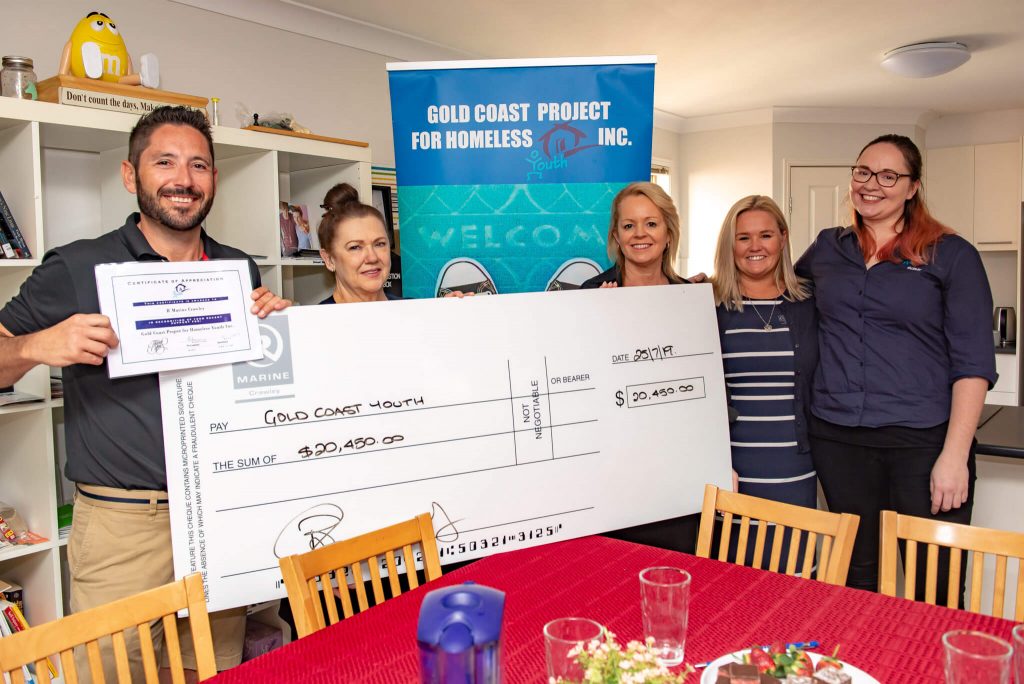 At R Marine Crawley, we know how lucky we are, working in a luxury industry where we get to enjoy some fantastic trips away to some superb locations & enjoy the nicer things in life. In saying that, we are fully aware that there are those who have less and those who go without altogether.
That is why we like to make an effort to give back to our local community
Our recent RMC Experience gave us a chance to take 15 Riviera families to the Whitsundays. This allows them to not only use their Riviera's but to also take them to destinations they would not normally get to go to.
During these experiences we like to hold charity auctions which enable us to do our part and raise some much needed funds for local Gold Coast charities. Thank you so much for all those generous auction bids from our members of the Whitsundays Trip 2019 – your goodwill and kindness was magnificent.​
This trip our chosen charity was GOLD COAST PROJECT FOR HOMELESS YOUTH INC. who's hard work and dedication helps to get teens off the street and give them the support and tools they need to get back on their feet. Giving them somewhere to call home and provide courses & activities for them to partake in to help give them a sense of worth.
It is with great pleasure that we were able to deliver a cheque to Pauline and the team this morning for $20,450.00 which we know will go straight to the needs of the teens in their care.